I am figuring out one of the hardest parts about no longer having Deanna just a phone call away. All of us are. And, of course, there's just her unmistakable presence and that dazzling smile of hers--but I'm talking about something altogether different. I call them the "Deanna topics."
See, there are things that happen or that you see and the natural order of things involves calling Deanna. Almost always these things are highly, highly unimportant. Nope. Nothing earth-shattering, although if you needed her ear on something earth-shattering she'd surely be there for you with excellent counsel and tender replies. The "Deanna topics" are more. . . .everyday craziness things. . . like. . .like what I wanted to call her about yesterday.
Now. Let me tell you . . . . the tough thing about these moments when those Deanna topics come up is that it's still been so soon since all of this happened. It sucks because you forget for a split second or two and find yourself already chuckling at her potential response. Because her response was guaranteed to make you laugh.

Every. Single. Time.
So yesterday. Yeah, that. So, even though I'm not much of a television watcher at all, I decided to order the remake of the old school blaxploitation film, Sparkle. You know--the one that was Whitney Houston's last on screen performance. Yeah, that one.
But I must admit that, to us, Sparkle isn't just "the movie that was Whitney's last movie." It was Sparkle. And see, for us, the original Sparkle from the seventies was the first "bad" movie we ever saw on our own. Back in the day, we had this movie theater in our neighborhood called "The Imperial." I am convinced that they only had three movies that ever showed there:
Sparkle.
Mahogany.
Cleopatra Jones.
I think maybe they had
Super Fly
and
Foxy Brown
, too. But hey--you get the picture. The Imperial was all about blaxploitation cinema. And, like, nothing else. At. All.
So, yeah. The Imperial was just a ride on the handlebars of somebody's bike away. Two dollars got you some exposure to slick talk and maybe even a few
really
bad words. For some crazy reason, though, even though Tounces and Poopdeck didn't let us do too much--The Imperial somehow slipped under the radar and became a frequent thing back in the day.
So yeah. We were good for some blaxploitation on a summer afternoon. Yeah, we were.
Deanna and I were both pretty excited when we saw the trailer for a Sparkle remake. Wait--I take that back. We were intrigued by the possibility of what they could do with it. See, we were remembering the original through the lens of elementary school kids who'd just slipped into one of the only air-conditioned buildings in the 'hood. And also who watched Soul Train on Saturdays and had pop-locking contests under street lights.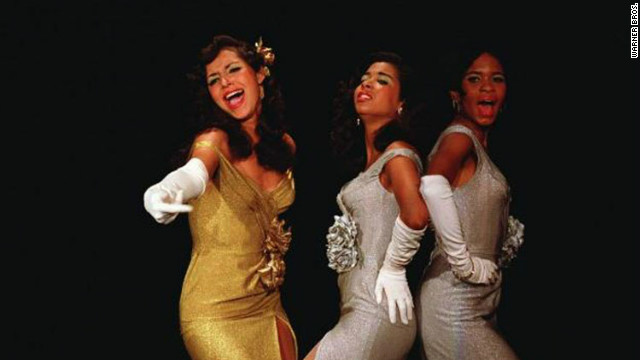 Any time we saw Sparkle, you could count on us having this exchange:

"I'm Sparkle this time! Tap-tap!"
"I'm Sister!"
"Nuh uh! I'M Sparkle! I said it before you!"
"No! You DID not! You said you was Sister!"
"Nuh UUUHHHH!!! Sister was on drugs! I ain't her! I said I was Sparkle!"
"Well. You got to be the other sister today. 'Cause you ain't Sparkle."
"The not cute sister? Nuh UHHH!"
"Uh huhhhh!"
"Hmmmph. Well, I'm just gon' be Cleopatra Jones then. Even though that ain't what we watching."
And yes. We had no regard for subject-verb agreement when away from the ears of our parents back then.
Mmmm hmmm.
So this is why I wanted so badly to talk this over with Deanna once it went off. I needed the after game breakdown and to hear her remind me of some tiny piece of retro minutia that I'd totally forgotten. And I needed to get her take on the whole thing.
For exactly two seconds, I forgot. Those credits started to roll and I forgot. Looked around for my phone and started wondering whether she'd caught this bootleg remake yet. Then I remembered.
Damn.
Okay. So listen, y'all. I'm going to need a couple of things from you. I realize that you all represent a world of special and experienced souls -- with a little bit of crazy sprinkled on top. This is what I need when these Deanna topics come up. So please--will you be there for me to chime in with some nonsense when I need it? And some funny reminders and ridiculous tidbits? I know. Nothing will ever replace Deanna's take on Deanna topics. But I do think she'd approve of y'all helping me this way.
I do.
The other thing I need--that you're already doing--is that you allow me to keep sharing these funny aspects of life with Deanna. I hope it doesn't seem too morose that I keep talking about all of this so much. I actually don't mean for it to be because nothing about her was that way. She was always light and funny and airy. She loved living and talking and chiming in. Writing about her like this keeps that on the front burner for me--and lets all of you sample from the pot.
JoLai was awesome last night. I called her up and said, "Dude. A Deanna topic just came up for me and I need you to weigh in."
"I got you. What's up?"
"I just watched this Sparkle remake. And what the eff? What's up with Satin Struthers being a comedian? A comedian? Wasn't Satin a big time dope dealer, hustling, pimp dude? Maaaaan. And the woman who played Sister couldn't even sing, dude!"
the original "Satin"
I could see her smiling through the phone even though she was all the way in Los Angeles. Smiling because she knew that this was totally a Deanna topic. But we both know that we'll just have to step up on helping each other with the Deanna topics. That or just hold the phone and laugh about what Deanna would say in such a situation. JoLai took a deep breath and jumped right into it. Just as Deanna would do at midnight on a Tuesday.

Man, I was glad that she did.
"Since when does Sparkle'n'em's mama have money? Money? I thought she was a maid! They lived in the GHET-TO, right? What was up with that big azz house and those fly azz clothes? And didn't Stix get beat up at the end?"

Loved. It.
Sparkle (Irene Cara) and Stix (Phillip Michael Tho

mas) in the original
"I'm saying! And hey--tell me--who in the original said, 'Brotha, you dropped a dime on me!'"
"Uuuuhh, what?" Now JoLai and I were both laughing. Because we knew that this ignorant retro minutia question on blaxploitation movie lines would only be answerable by Deanna.
Or maybe one of you.
"Was that from Super Fly?"
"I thought somebody said that to Stix in the original Sparkle movie. Didn't they?" I wanted to know. Why I did, I do not know. But I did. Then I kept repeating the line with my raspiest, throatiest, most blaxploitation-y voice. "Brothaaaaaa, you dropped a diiiiiime on me!"
We exploded in more laughter.
"Man, this new Sparkle broke all the rules of blaxploitation films," I told her. "Back then, no happy ending was necessary. The pimps were extra pimp-y, the drug addicts extra strung out, and the language . . . oh my gosh!"
"Yeah, you JIVE TURKEY!"
"Brothaaaaaaa, you dropped a diiiiiiiiime on me, ya dig?" (I just added "ya dig" for good measure.)
And with that, we just laughed and laughed until our sides ached.
See, this? This is what makes me both love and miss Deanna so much. Stuff like this. But can I just say this even though I have before? You all have been so good to me. You've been patient. You've listened. You've chimed in. You've laughed, too. I love that you held my hand through a rehash of nineteen seventies black cinema even if not one of these movies means a single thing to you.
Which reminds me--my friend and fellow Grady doctor, Stacie S., told me that she'd never even heard of the movies Sparkle or Mahogany. Now she is significantly younger than me, but still. I put her African-American membership on probation the minute I heard that. I will be quizzing her on Cleopatra Jones, Which Way is Up, and Good Times quotes. If she doesn't score at least 75%, then this probation period could become something more serious.
Ha.
Yeah, so that's all I got. I miss my sister today. But in the very, very best kind of way. Does that make sense?
***
Happy Wednesday.
Now playing--from the original Sparkle--"Giving Him Something He Can Feel." Yes, mom, we were singing these horrible lyrics in the 1970's while in elementary school. Epic fail on your part. Ha ha ha.