What's up, Team?
I hope everyone is having a GREAT week so far. I'm on the hospital service right now taking care of the inpatients so things are kind of busy. I admit that I'm about to have to go super hard this weekend to make up for how far I am from my 150 minutes this week. I ran for 57 minutes on Sunday and got in a 35 minute walk on Tuesday. Otherwise, I've been kind of raggedy with the deliberate exercise.
That said. . . .the Fitbit has been a great motivator this week, though. Taking care of hospitalized patients involves a lot of walking around. Maybe that's why they call it rounding? Hmmm. I don't know. But for reals? I have easily clocked 5 miles in that hospital each day just from regular work. My Fitbit has inspired me to climb more flights of stairs and walk more.
So that got me thinking. You know? Team S.J.G.R. has really been an inspiration for a lot of us to adopt healthier lifestyles for the right reasons. For more than just sashaying around that high school reunion or college homecoming. We've decided to be transparent about what really matters and what stands in the way of us doing what we need to do.
So we nudge each other. We hold each other accountable with our reports and our posts. And that is totally inspiring. But here's what I've found. There are the big things that inspire us and then there are some little things, too. When it comes to exercise. . . . what can possibly be more inspiring than some good music? Maaaaan, please. A really good music playlist? Tha's what I'm t'ambout!
Yup.
Matter of fact, I wrote a little top ten about it. Like to hear it? Here it go.
THE TOP TEN JAMS ON MY PLAYLIST THAT INSPIRE ME TO GO HARD WHEN I'M RUNNING OR DOING SOME KIND OF CARDIO WORK OUT
Note: I could probably listen to every one of these songs over and over again on a thirty minute loop given the mood I'm in. That's a sign of a good playlist jam.
#10 Rock Steady by Aretha Franklin.
"Rock steady, baby
That's what I feel now
Let's call this song exactly what it is.
It's a funky and low down feeling. . .(what it is)
in your hips from left to right. . .(what it is)
What it is is I might be doing. . .this funky dance all night, OH!
"
I feel so bad ass when this song is on. I love to listen to this at the very start of my run. It gets me through my first mile with a big smile.
#9 Who Runs the World? Girls! by Beyonce
"My persuasion can build a nation. . ."
As soon as those drums come in and Beyonce starts saying, "WHO RUNS THIS MOTHA? YUP!" I start hauling ass, do you hear me? Ha ha ha. That song plays -- literally -- four times on my play list. Even though it's not a song I like hearing just for G.P. I do like it for running.
"Strong enough to bear the chil'ren . . .and get back to biz'ness!"
Yup.
#8 American Boy by Estelle
What
is it
about this catchy tune? I don't know. It's just a great song for cardio. Especially when Kanye West comes in with his part. I know. I know. He's arrogant and somewhat annoying at times. But he's talented and hypes me up with his riff on this one.
"I'm like Mike at his badddd-dest. Like the Pips with they Gladys."
Ha ha. Yeah. That's the cut, man.
#7 Anything by Rihanna.
I can run to her music all day. No. I'm not necessarily a big fan of HER. But her music? It's all so good for running and working out, man. Specifically:
Love in a Dangerous Place
Diamonds
What's my name?
Only Girl in the World
I have a one and a half hour long playlist with all Ri-Ri. As in Rihanna. (Not to be confused with my Re-Re playlist. As in Aretha Franklin.)
#6 I Feel Like Going On by Bishop Marvin Wayans
I cannot get enough of this song. I cannot. I listened to it probably 30 times per day in November of 2012. And I tell you this song ministered to me in a way that few others could.
Now? I like to run to it. I cry the whole time it's on. But no matter how tired I am or how tall the wall I've hit has become, when I hear this song I feel like going on.
"I don't know how you feel about it but I. . .I feel like. . I feel like going on. Even though trials . . .they come. . . on every, every, every hand. . . .oh. . I feel. . .I feel like going. . .I feel like going on."
#5 How to Save a Life by The Fray
I
love
this song. Something about it makes me imagine a different story every time I hear it. I love that because I imagine that story while I'm exercising which allows me to zone out.
#4 Tom Ford by Jay Z (The Clean or the Instrumental Version)
That beat is SICK. Once I found this version, I could better enjoy it.
I also like
Roc Boys
by Jay Z. That song gets me equally hyped. Ha ha ha.
#3 The Best of What's Around by Dave Matthews Band
Us heading to DMB concert last December
DMB is Will and JoLai's favorite band of all time. Hearing this song always makes me feel so connected to all of my sibs. I used to just like that song. Now it moves me in a different way because now I hear the lyrics. It's a great inspiration when I'm exercising.
"Turns out not where but who you're with
That really matters
And hurts not much when you're around"
I love this song for
that line
more than any other. Because that? That's a good word.
I could run to it all day.
#2 I Believe I Can Fly by R. Kelly
See, I was on the verge of breaking down
Sometimes silence can seem so loud
. . . .
Corny, I know. But this is another song that really inspires me to push it. What could be better than that as a mantra? I believe I can fly? Come on, people.
There are miracles in life I must achieve.
But first I know it starts inside of me.
If I can see it, then I can do it.
If I just believe it, there's nothing to it.
I believe I can fly.
#1 GET UP OFFA THAT THANG! by James Brown
Come on. Now you KNEW this would be my number one.
My favorite line?
"I'm back! I'm back! I'm back! I'm back! I'm back!"
Because even if I've fallen off of the wagon, hearing that part makes me feel good. I laugh out loud while I say, "I'm back! I'm back!" I have this at the beginning and end of every one of my playlists. Not even kidding.
Plus it hypes me up to groove like J.B. Don't believe me?
Watch me!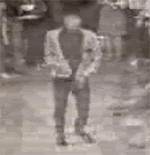 Like that. Hee hee.
What music is inspiring you? Share a few jams off of your playlist!
***
Happy Thursday!
Peep my shirt for the Army Ten Miler! This inspires me, too!