Yeah, so check it. This woman Rachel pictured below just won the $250K purse on "The Biggest Loser." That's that show where people work out and overhaul their diets on national television. They also wear, like, sports bras in front of the whole-wide-world and step on a ginormous scale each week. Talk about no shame in your game. Dang.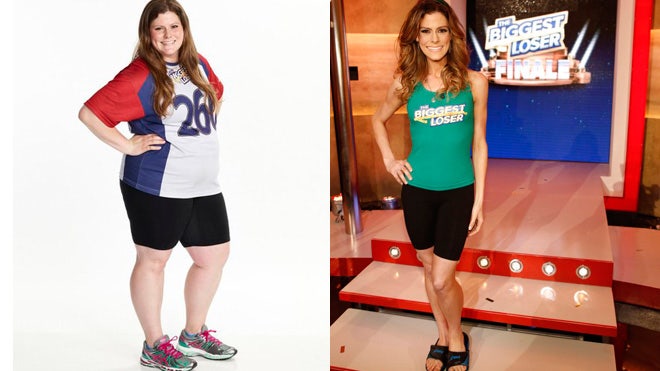 Yeah. So Rachel literally lost over 150 pounds. Which was nearly 60% of her body mass. She started over 250 and got down to 105 pounds. Yes. 105 pounds.
Okay. So before you ask--she's 5'5". That gives her a body mass index of like 17 and some change. Which, yeah, is kind of low. And sure. I'll go with the masses and say she looks a bit gaunt-ish in the face. And I'll even say that getting down to 105 pounds in I'm not sure how much time (but less than a year) is kind of extreme.
But.
Let me tell you what has me the most bothered about all of this. It's this accusation that she is "anorexic." As a matter of fact, if you type "anorexic" into a search engine right this moment, HER PHOTO is the second hit. Not even kidding.
Now that? That's not cool. Because anorexia -- as in anorexia nervosa -- is a big deal and a serious diagnosis. Shame on America for wagging their fingers and using that term so loosely! It's disrespectful not only to her but also the many, many people who struggle with eating disorders every single day.
Anorexia Nervosa is an eating disorder that is hallmarked by a combination of restrictive eating, an irrational fear of weight gain and ESPECIALLY something called "body dysmorphism." That's where you look in the mirror and see FAT when what is actually there is, well, skeletal.
Now.
I saw how that woman Jillian Michaels and the other trainer dude looked when she walked out. They looked like, "Daaaaaaaaamn!" and not in the good way. But I also saw how Rachel looked at her body double hologram and how she seemed to feel about herself. There was nothing I saw that made me think she was irrational about gaining more weight or unhappy with not being thin enough. I didn't catch her restricting food or running in place burn calories either. In fact, all I saw was a previously heavy woman who may have crossed the line a bit.
Did America recall that this woman used to be competitive swimmer? She knows how to chasten her body and probably did. And, look. I'm not a huge fan of TV weight loss shows or those creepy plastic surgery makeover ones, either. But calling a woman "anorexic" so much that she is the SECOND FREAKING HIT on Google is just wrong. Wrong, wrong, wrong.
I've seen people look like her after gastric bypass. I think sometimes that "gaunt" appearance can come after a face and arms that once had more skin is no longer filled out. Maybe. But my point is that sometimes when a person has gone from one extreme of heavy to thin, it doesn't look as. . .well. . ."normal" . . .as usual. That's just my opinion.
Imagine if YOU were going to come onto national television to the finale of a weight loss show. How hard would YOU go? I bet she did get a bit extreme. But I doubt any more extreme than some of you have gone in preparation for a wedding day or some other very public thing where you wanted to slay the onlookers with your diva-ness.
So really? I think it's bullshit to call her anorexic. It's mean, too. And shame on America (and every other country) for thinking it's okay. Because it's not.
Now.
I didn't say she DIDN'T have an eating disorder. But I am saying that we don't have any real evidence of that. I'd rather people say "she went too far" or that "she's a bit too thin." Hell, I've felt the same way about Al Roker before. And you know what? If Rachel is anything like Al, she's a carbohydrate and a refined sugar away from having you all off of her back.
Ha.
Leave that woman alone. And as for how they threw her trainer under the bus? That was just wrong, too. But more than I can even unpack before my kids wake up.
So that's it. That's my take. And if I was Rachel the lady on Biggest Loser? I'd probably be saying some really inappropriate things to the world on Twitter right about now.
But that? That's just me.
Whoops. I hear Zachary. Weigh in, y'all.
Get it? WEIGH in. Hee heeeeee.
Random sidebar: I kind of think the thin Rachel favors the late Karen Carpenter (who famously passed away from anorexia nervosa.) Perhaps this is what's evoking that word. I'm just saying. What do y'all think?
***
Happy Thursday.